On Becoming a Woman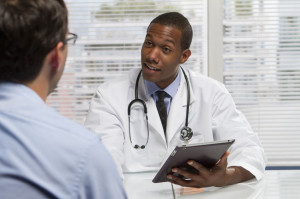 It was a cold day in January when I first met him. I was an internal medicine resident at an urban academic center, halfway through intern year and just trying to survive as a young physician. My primary care clinic schedule was filled with hospital follow-ups and urgent visits. The first patient on my schedule was a 20-year-old man establishing primary care after an appendectomy. Fabulous, I thought to myself. Twenty-year-olds usually have few ailments so this should be a quick visit.
Like so many times before, I put on my white coat and strode into the examination room with what I hoped came across as confidence. "Hi, I'm Dr. Kwong. I'll be your new primary care doctor. How can I help you today?"
My patient smiled at me and started speaking in rapid-fire Spanish, gesturing with his hands vigorously. My rudimentary Spanish skills were no match for this. Finally, he paused to take a breath and the Spanish interpreter on speakerphone seized the opportunity to begin interpreting. Nothing I had learned in medical school had prepared me for what came next.
"You see doctor, I am not happy with who I am and I wish to become a woman. Can you help me?"
I sat there in stunned silence for a few seconds, not because I was surprised at his candid revelation, but because my years of medical training had not prepared me for this. Sure, I had taken lessons on how to be a compassionate physician, but despite lectures on sexually transmitted infection screening and sexual health, no one had ever taught me how to advise a patient seeking to become a woman. In my controlled panic, I remembered it would be polite of me to ask for a transgender patient's preferred name and form of address. Her name was Sofia and she preferred feminine pronouns.
Sofia was originally from Central America. When she was young, her father was murdered by a street gang. As a teenager, she had been banished to the streets by her family when she initially came out as a gay man. Homosexuality was condemned in her culture and she was the victim of frequent death threats from gangs on the streets. At the age of 19, she began to see herself as a woman. She attempted to slit her wrists in despair, believing the world would never accept her. Despite the tremendous turmoil and instability of her early years, she finished high school and obtained a degree in accounting from a local university. The recurrent death threats and persecution over her sexuality intensified until one day she fled north over land until she arrived in Arizona. With no English skills, insurance, or identification, she meandered around the country doing odd jobs until she got appendicitis and landed in my primary care clinic asking me how to become a woman.
Her raw emotion and life story overwhelmed me. Although I had limited knowledge about lesbian, gay, bisexual, transgender, queer (LGBTQ) health issues and resources, I was committed to be the advocate she needed. Together we set off on a multi-year journey that changed both of our lives.
I began to research transgender issues and identified resources for medical and psychological support. After encountering a lack of formal courses on transgender health, I sought mentorship from physicians within the LGBTQ community. Even though Sofia qualified for charity health coverage in our hospital system, we still faced substantial obstacles. Each time I found a possible resource, the door slammed in our faces as quickly as it opened. Gender dysphoria was not a covered indication for endocrinology referral under our hospital charity coverage program. Pre-exposure human immunodeficiency virus prophylaxis was too expensive. It was nearly impossible to set up Spanish interpretation for her psychiatric appointments. All the transgender support groups were English only. These were just a sampling of the heartbreaking defeats that came almost weekly for the first year. Throughout this challenging ordeal, she came to see me every month without fail, hopeful that I would have found a way for an undocumented, uninsured Spanish-speaking transgender immigrant to undergo the gender confirmation process.
Despite the frequent bad news, language barrier, and our very different cultural backgrounds, we were never at a loss for conversation during our visits. Notably, our shared passion for food transcended all barriers. She introduced me to the best rotisserie chicken joint in Baltimore and showed me where to get the most authentic Salvadoran cuisine. Her love of life and never-ending optimism encouraged me to continue searching for transgender resources long after I otherwise would have thrown in the towel. I staffed all of Sofia's visits with the same attending physician to maintain strong continuity of care. Although my attending was learning about unique transgender health issues alongside me, he maintained optimism and encouraged both my patient and me toward our goals even during our darkest days.
Depending on which survey is considered, an estimated 5.2 million to 9.5 million Americans identify as LGBTQ;11.4 million people in the United States identify as transgender — double the number from 10 years ago.2Numerous studies have documented disparities in LGBTQ health care, such as increased rates of suicide, sexually transmitted infections, and disparate utilization of preventative services.3 These differences are especially prominent among minority populations.3 In order to combat these health disparities, LGBTQ health initiatives have been incorporated into Healthy People 2020, a set of national objectives to improve the health of all Americans over the next 10 years.3 The Association of American Medical Colleges has likewise advocated for better inclusion of LGBTQ education into undergraduate and graduate medical education.4 Yet, on average, medical students spend only 5 hours on curriculum dedicated to LGBTQ health.5 Formal courses during undergraduate and graduate medical education are becoming more available, but usually only as electives.6
In today's political and social climate, Sofia is a member of some of our most marginalized and vulnerable communities. Her language barrier and immigration status alone were substantial obstacles. Communication barriers to obtaining health care are high among non-English speakers in the United States, and especially problematic among refugees and asylum seekers like Sofia.7 Despite these additional challenges, I believe her health care journey would have been smoother if there had been greater exposure to LGBTQ topics throughout my formal medical education. The paucity of education in LGBTQ health requires the attention of the health care community. LGBTQ patients like Sofia should have confidence that all physicians have basic competency on issues pertinent to their health and unique needs.
As a growing number of patients openly identify as LGBTQ, providing for their medical needs can no longer be regarded as "specialty health care." Patients just like Sofia are coming to see physicians who don't necessarily specialize in providing health care to LGBTQ patients. After all, Sofia could have been assigned to any physician. Sofia will be admitted to your hospital, she will fill her medications at your pharmacy, and she will expect members of her health care team to be knowledgeable and competent when providing her care. It's the least our LGBTQ patients can ask for, and it should be our privilege to provide it.
After a year of hurdles and emotional appointments, Sofia finally started hormone therapy. I still see her for primary care and it's been amazing to watch her embrace herself as the woman that she's always been. When I first started my medical training, I never dreamed that a patient would ask me how to become a woman — let alone in a language other than English. Our journey together is just beginning and I still have a lot to learn, but at least now when the next patient asks, hopefully I will have a better answer. Thank you, Sofia.
To read this article in its entirety please visit our website.
-Helaine J. Kwong, MD, PharmD, Paul D. O'Rourke Jr, MD, MPH
This article originally appeared in the September issue of The American Journal of Medicine.