Hospitalists, Medical Education, and U.S. Health Care Costs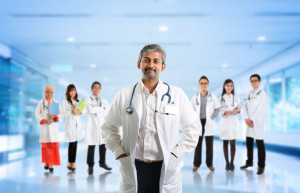 Hospitalists are general internists whose full-time practice is to treat hospitalized patients. They are the fastest-growing medical specialty in the United States. They increased in number from 4000 in the year 2000 to 50,000 in 20161 and now are the largest subspecialty in internal medicine. By 2016, nearly all teaching hospitals and 75% of all U.S. hospitals had hospitalists.1 The prime responsibility of a hospitalist is to be an attending physician and direct the care of inpatients. They must be experts in cost consciousness. Their decisions determine the length of stay and costs of hospitalization of their patients.2, 3, 4, 5
Outcomes of Care: Hospitalists vs General Internists
Multiple studies have shown that patients managed by a hospitalist have a shorter length of stay and lower hospital costs than those managed by other physicians.1, 3,6, 7
The reduced length of stay and reduced hospitalization costs are sufficient to strongly encourage community and teaching hospital directors to adopt and support the hospitalist model.
It is well established that U.S. health care is the most expensive in the world.8 One-third of U.S. health care expenditures in 2016 were for hospital care.2 Health care expenditures per capita vary widely in the United States. State-specific hospital spending for Medicare patients in 2004 ranged from $17,135 in Idaho to $37,000 in New Jersey.2 The difference in these charges is due to decision making by the attending physician. Some physicians order more expensive tests and procedures than others.
Medicare pays hospitals a fixed amount based on a patient's diagnosis (diagnosis-related group) rather than the number of hospital days or the total number of hospital procedures or charges. Non-Medicare payers usually pay a fixed amount per day or by a modified diagnosis-related group.9 As a result, hospital profits are greatest when the length of stay is short and total hospital charges for diagnostic tests and procedures are low.
Outcomes of Care: Quality Measures
Comparing quality of care is difficult. The 2 metrics that are used to assess quality of care are the in-hospital death rate and the rate of readmissions. To be valid, comparisons of in-hospital mortality or readmission rates would require carefully matched randomized clinical trials. Such studies are not available.
In 2009, Peterson10 reviewed 18 reports that compared care by hospitalists vs nonhospitalists. In 15 reports, there were no differences in the 30-day death rate or the readmission rate. In 3 reports, mortality and readmissions were less frequent for hospitalist patients.10
Cost-effective care by hospitalists does not diminish the quality of care as measured by in-hospital mortality or the
To read this article in its entirety please visit our website.
-James E. Dalen, MD, MPH, Kenneth J. Ryan, MD, Anna L. Waterbrook, MD, Joseph S. Alpert, MD
This article originally appeared in the November issue of The American Journal of Medicine.