Why Are Drug Prices Higher in the US?
On 1000-Fold Pharmaceutical Price Markups and Why Drugs Cost More in the United States than in Mexico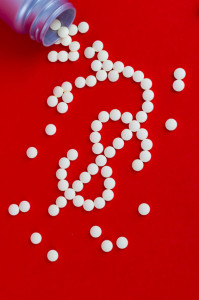 On July 15, The Washington Post's Wonkblog posted a story titled "This $153,000 Rattlesnake Bite Is Everything Wrong with American Health Care,"1 accompanied by a striking photograph depicting ascending hemorrhagic lymphangitis and an image of the associated hospital bill, which included $83,341.25 in pharmacy charges, presumably for antivenom. The article quotes a wholesale cost of $2300 per vial, describes efforts by the manufacturer to squelch competition, and states that at least 1 man has died because of refusal to accept this high cost of care.1
My group at the University of Arizona was instrumental in the development of CroFab, the drug in question (Protherics, Inc, Brentwood TN),2, 3 as well as that of Anavip (Instituto Bioclon, SA de CV, Mexico), its erstwhile competitor.4, 5 We also conducted the pivotal clinical trials of Anascorp (Instituto Bioclon, SA de CV, Mexico), the first scorpion antivenom to receive marketing approval from the Food and Drug Administration,6, 7 and today we are studying a new product for treatment of coral snake bite.8 There is no question that use of these biological products reduces morbidity and mortality, and the safety of modern antivenoms is quite good.
Treatment of venom injury is a minuscule field: If you add together all the bites and stings by venomous lizards, snakes, scorpions, and spiders in the United States each year, envenomation in aggregate affects fewer than 50,000 people annually, well below the defining limit for an orphan disease (200,000). Consequently, when price points are set after marketing approval of these lifesaving antidotes, the impact of development costs is magnified, together with that of bureaucracy and the profit motive.
Physicians are counseled to steer clear of involvement in the pricing of the drugs we study, for good reason: Financial conflict of interest by care providers imperils our ability to provide objective patient care. In our antivenom studies, my group relies to the greatest possible extent on Food and Drug Administration orphan grants and state support, also in an effort to remain without conflict of interest.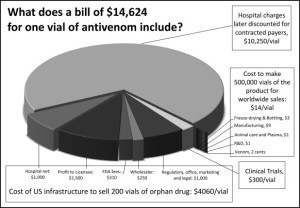 For all of these reasons, we were crestfallen to discover, after the Anascorp market release in 2011, that the chosen wholesale price for this otherwise excellent drug was set too high to be cost-effective, even in the treatment of critically ill children.9 Industry website FiercePharma dubbed the product a "drug launch disaster" and "one of the most bizarre marketing tales in the industry."10 Somehow, a US drug whose sister product retailed in Mexico at $100 was resulting in bills to Arizona patients of between $7900 and $39,652 per vial.11
Two years later, a patent dispute highlighted the massive legal costs of drug development by pitting the 2 rattlesnake antivenom manufacturers against each other at the International Trade Commission.12 Rather than bringing the price of antivenom down, competition drove it up, because millions of dollars in legal costs had to be distributed across a few thousand patients. And that brings us back to last month's story in the Post and the question of where these numbers come from.
To understand why US patients were billed so much more than their Mexican counterparts, I requested cost data from factory supervisors, sales representatives, animal managers, hospital administrators, health care finance officers, hospital pharmacists, grant managers, and insurance specialists representing more than 20 organizations involved in antivenom work affecting Latin America and the United States. Without exception, these individuals requested anonymity and protection from specific data sharing with competitors. Information from these interviews included cost estimates for raw materials, horses, preclinical testing, labor (ranching, factory, academic, and administrative) in the United States and in Mexico, taxes, litigation, regulatory consultant costs, compliance with Good Manufacturing Practices, clinical trials monitoring, years of delay between first production and marketing approval, wastage from defective or unused product, and the impact of negotiated discounts by insurers with hospitals large and small. Duplicate sources were selected and numbers averaged in most instances.
Cost of antivenom was separated into phases of equine plasma production, manufacturing of bulk principle, lyophilization/fill/finish, clinical testing, wholesale, clinical use, patient billing, and insurance discount. The model assumed a hypothetical arachnid antivenom in a 10-year product development cycle, with cost of manufacturing distributed across sales of 500,000 vials per year in Latin America, and added costs of US clinical trials and infrastructure applied only among 2000 vials per year sold in the United States.
Results of this analysis are summarized in the Figure. By far the greatest contributor to final patient billing was the portion of hospital charges later discounted for contracted payers, a negotiated amount that varied widely among hospitals but that does not represent actual collections for the majority of patients. The largest true cost to payers, totaling approximately $4100 per vial, was that of the legal, regulatory, and hospital activities involved in selling the drug. Clinical trial costs (mostly monitoring and data support, and excluding an ∼25% offset provided by government grants) contributed $300 per vial to the US wholesale cost. Actual research and development, animal care, manufacturing, and bottling underlying the far lower price structure for patients in Mexico totaled only $14 per vial, or 1/1000 of the ultimate charge to patients.
What does all this mean for us doctors? For starters, it means that well-intentioned efforts by antivenom scientists to reduce costs by designing more efficient manufacturing methods are doomed to fail, because only one tenth of 1% of the ultimate price is a function of manufacturing. Second, it means that orphan drug grants can reduce the final cost to the patient (in this model by ∼$110 per vial) and that improving the efficiency of clinical trials could also have a meaningful impact. Third, this analysis demonstrates that well more than half of the astonishing hospital charges reported in the lay media are not true costs at all, but are instead attributable to the idiosyncrasies of the US healthcare finance system. These "discounted" rates help to focus public attention on an important issue, but they distract debate away from the actual costs underlying hospital charges. Last, and most important, in this analysis the lion's share of expected payment on behalf of insured patients was attributable to analysts, attorneys, consultants, and business activities that set the US bureaucracy apart from its neighbors—expenses inherent in the application of a for-profit drug development philosophy to treatments that other countries place in the domain of public health.
To read this article in its entirety and to view additional images please visit our website.
– Leslie Boyer, MD
This article originally appeared in the December 2015 issue of The American Journal of Medicine.