Career-Focused Mentoring for Early-Career Clinician Educators in Academic General Internal Medicine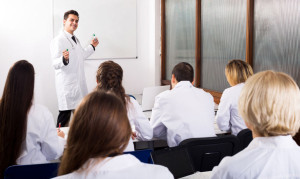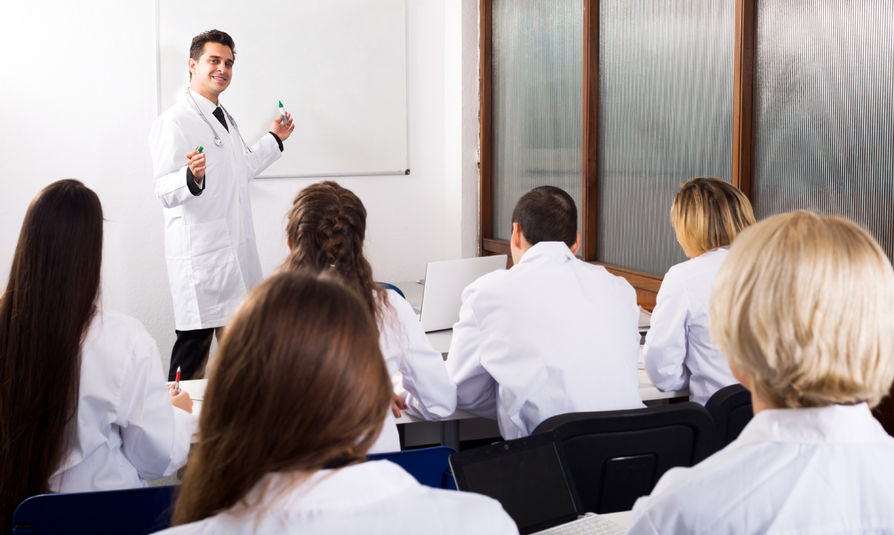 Clinician educators (CE) serve vital roles in academic medicine by providing clinical care, applying educational theory to practice, training future physicians, producing scholarship, serving as administrators, and consulting with other professionals.1 Clinician educators in general internal medicine work in outpatient and inpatient settings, some as hospitalists. Despite their essential contributions, clinician educators face challenges in developing academic careers and advancing in rank. They may have limited knowledge and skills in curriculum development and research methods2 or in pedagogy and medical education theory.3 Most clinician educator effort is spent balancing competing demands of clinical productivity and teaching, which limits time for fulfilling scholarship expectations.2, 4 This article describes the value of a mentoring program aimed at ameliorating such challenges for early-career clinician educators.
Most mentoring programs in professional settings match experienced people in the organization with early-career colleagues to help them develop the skills and knowledge they need for professional growth and advancement. Mentoring has been recognized as a successful strategy for supporting clinician educator careers in academic divisions/departments of medicine and pediatrics.5, 6, 7, 8 However, in a national survey of 266 academic hospitalists, less than one-half (42%) had mentors; lack of mentorship was negatively associated with publication output and national meeting presentations.9 Overall, nontenure-track assistant professors are less likely to have mentors than tenure-track faculty.10 Compounding the problem of inadequate access to mentorship is the question of how to effectively mentor clinician educators. Although mentoring practices and career milestones are relatively well defined for research-intensive faculty,11, 12 these approaches do not fully generalize to clinician educators, who have substantially different workflows, responsibilities, goals, challenges, and priorities.
This article describes an approach in an academic general internal medicine division to ensure more equitable access to mentors by establishing a semi-structured faculty career mentoring program (CMP), and empower faculty participants in the CMP—via scheduled mentoring discussions, individual development plans (IDPs), and professional development programming—to become more proactive managers of their academic careers and productive scholars. The objective of this article is to report on a model program with the intent of proving an example for structured early-career mentoring for nontenure-track faculty. We describe CMP development, present evaluation results from the pilot year (including pre/post changes in career management self-efficacy and satisfaction with mentoring received), and compare the cohort's academic productivity over multiple years preceding and following the program. The goal in sharing findings is to offer evidence for the value of a relatively low-intensity, career-focused mentoring initiative for clinician educators and to provide a model for other programs seeking to foster the professional development and academic advancement of their faculty.
Methods
Setting and Participants
The Division of General Internal Medicine in the Department of Medicine at the University of Minnesota Medical School primarily comprises faculty who devote 50% or more effort to direct patient care. Most are involved in clinical teaching, including the inpatient teaching service or precepting residents in clinics. Several are course or clerkship directors or residency program leaders. The division formed an academic hospitalist program in 2010. By 2016, the faculty had doubled from 29-58, with a threefold increase in hospitalists (from 12-35). Most faculty scholarship is related to medical education, quality improvement, or applied clinical research.
Historically, mentorship in the division had been informal and unsystematic, with a dominant focus on faculty member development as clinicians, educators, and leaders in these areas. Less attention had been paid to building scholarship portfolios and helping them prepare for promotion. Beginning in 2013-2014, we pursued a more programmatic approach to mentoring in response to rapid division expansion at the assistant professor level, and more explicit and rigorous medical school expectations for faculty scholarship in nontenure tracks. These realities compelled us to begin systematically mentoring early-career faculty to not only become outstanding care providers and educators, but also to develop and refine their scholarly interests to help them progress toward meeting institutional promotion benchmarks. The program's long-term goals are to foster satisfying careers for clinician educator faculty, resulting in higher rates of retention and academic advancement.
CMP began in 2013 with 8 mentors (associate or full professors) and 30 mentees (assistant professors). Four mentors were male, four female; mean duration on faculty was 12 years. Six were medical doctors (MDs; 3 with additional master degrees) and 2 had doctor of philosophy (PhD) degrees. Three mentors were tenured; the other 5 were promoted on nontenure clinician scholar or teaching tracks. Of the 30 mentees, 16 (57%) were men and 13 (43%) were women. Mean duration on the faculty was 3.5 years. Nineteen held MD degrees, 6 held MD plus master degrees, 3 held PhD degrees, and 1 held an MD/PhD degree. All held nontenure-track appointments; 8 (26%) did not know their track.
At the conclusion of the first year, 23 mentees completed a follow-up survey (77% response rate) with results included in the analyses. At 3 years after program launch, we assessed the scholarly activity of the full mentee cohort for comparison with pre-CMP values.
To read this article in its entirety please visit our website.
-Jonathan D. Kirsch, MD, Alisa Duran, MD, Alexander M. Kaizer, PhD, Heather Thompson Buum, MD, William N. Robiner, PhD, Anne Marie Weber-Main, PhD
This article originally appeared in the November issue of The American Journal of Medicine.