Social Media and Physician Conflict of Interest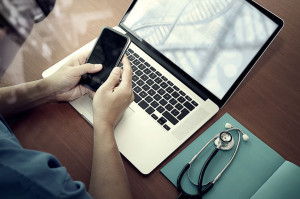 The use of social media by physicians has increased substantially in recent years, with some estimates reporting increases from 41.6% in 2010 to as high as 90% in 2011.1 While personal use is more common, approximately 65% of physicians interact with various social media platforms for professional reasons.1 For example, some physicians use social media to promote positive health behaviors, debate health care policy, network with colleagues, and to educate their patients, peers, and students.
As such, there is great potential for physician use of social media to improve health outcomes. However, protection of patient and physician privacy, distribution of inaccurate health care information, violation of personal–professional boundaries, misrepresentation of credentials, and bias in physicians' recommendations on social media remain significant concerns. Recognizing this, in 2010, the American Medical Association and, in 2013, the American College of Physicians (ACP) and the Federation of State Medical Boards (FSMB) published guidelines for the ethical use of social media by physicians.2, 3 The ACP/FSMB policy statement advises that physicians must disclose any potential conflicts of interest (COI) when discussing their professional experiences online. These recommendations were (and to our knowledge remain) innovative; we are not aware of similar recommendations applying to other professional groups using social media (eg, lawyers and scientists). Despite this recommendation, data suggest that lack of disclosure by physicians continues to be a significant problem. In this commentary, we examine the challenges of disclosure on social media and propose potential solutions.
The Importance of Disclosure
Industry relationships may explicitly or implicitly bias physicians in their reporting of research study results and in their declared medical management recommendations. Such conflicts may create risks for individual patients and can also undermine the integrity of the doctor–patient relationship. Disclosure of potential COI ensures such influences can at least be acknowledged and incorporated into the interpretation of online information. Physicians are already required to disclose potential COI during conference presentations, on submissions to medical journals, and to their employing institutions (eg, academic medical centers). While some may argue that disclosure can lead to misguided trust in the discloser,4 in general, disclosure serves to 1) caution readers, and 2) serve as a deterrent from engaging in these relationships when unethical.
Current Status in Social Media
Are physicians following the ACP/FSMB policy recommendation on disclosure, and should consumers of social media be concerned about potential COI amongst physicians distributing health care information on these platforms? Available studies raise concerns.
Data about physicians' failure to disclose potential conflicts online predate the 2013 ACP/FSMB policy statement. In a 2012 survey of osteopathic and medicine boards in the United States, 92% indicated that at least one online professionalism violation had been reported to their board, and approximately 20% of these violations related to failure to disclose COI online.5
Data in the wake of the ACP/FSMB recommendations suggest that the current state of disclosure online is no better. In a study of US hematology-oncology specialists using Twitter, 79.5% had at least one financial COI.6 In a subsequent study, researchers analyzed the contents of the tweets of 156 hematology-oncology physicians with a financial COI of at least $1000 in general payments in 2014.7 Eighty-one percent of physicians mentioned at least one drug from a company for which they had a COI.7 Comparing 100 tweets about potentially conflicted drugs with 100 tweets about nonconflicted drugs at random, conflicted tweets were more likely to be positive, similarly likely to be neutral, and less likely to be negative.7 Of utmost concern, only 1.3% of these physicians included disclosures of their payments.7 Whether such potential biases exist among other specialties warrants further study.
To read this article in its entirety please visit our website.
-Cian P. McCarthy, MB, BCh, BAO, Matthew DeCamp, MD, PhD, John W. McEvoy, MB, BCh, MHS
This article originally appeared in the August issue  of The American Journal of Medicine.